NLG Leonard I. Weinglass Memorial Fellowship
2023 Announcement and Application Instructions
Leonard I. Weinglass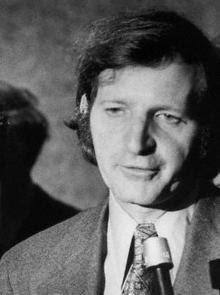 (1933-2011) was a criminal defense attorney and constitutional law advocate. Over the course of his career, he represented political activists, government opponents, and criminal defendants— including Angela Davis, the Cuban Five, the Chicago Seven, the Pentagon Papers defendants, and the death row appeals of Mumia Abu-Jamal—in a half century of politically significant cases. He was a longtime Guild member and served as Chair of the NLG International Committee.
Thanks to a generous bequest from the Weinglass estate, the NLG Foundation established a fellowship for recent law graduates. Each year, one fellow receives a stipend to work for the NLG on a specific civil rights or civil liberties project. Previous fellows have developed projects to assist with parole and sponsorship for LGBTQ+ migrants, reunite American citizen-children with undocumented parents who have been deported to their country of origin, support community bond funds, fight a new maximum security prison planned for construction on a former coal mining site, develop an environmental justice legal defense and action plan, support imprisoned jailhouse lawyers, and create a Federal Repression Toolkit
Eligibility
The Weinglass Fellowship is open to all NLG members who have graduated from law school in the past five years. Applicants must be current in their NLG dues.* Applicants must develop a project with the sponsorship of an NLG entity, which includes NLG Chapters/Regions, Committees/Projects,** and the NLG National Office. The sponsoring entity agrees to collaborate with the fellow to create a project and to offer (or assist to help locate) a working space for the Fellow over the course of their project.
Award
One Fellow is chosen annually and receives a $4,250 award to work on a 10-week project that is in line with the mission of the NLG and the career of Leonard Weinglass. The Fellow will also receive free registration for one year to the NLG Law for the People Convention and will be highlighted on the Guild website, social media sites, and Guild Notes.
Application
To apply for the NLG Leonard I. Weinglass Memorial Fellowship, email the following materials to Director of Research and Education Traci Yoder at traci@nlg.org by Monday May 22, 2023:
Cover letter describing your previous experience and reasons you are applying
Current resume (no more than 3 pages)
Essay between 1,000-1,500 words describing your proposed project
Contact information for two references
Letter from the NLG entity who will be sponsoring your project
Selection and Notification
The Fellowship winner will be chosen by a committee composed of NLG Foundation Board members, NLG National Executive Committee members, and representatives from the NLG National Office. The committee will review the applications with an eye toward projects that meet the fellowship criteria, address a relevant and timely issue, and further the NLG's mission of people's lawyering and placing human rights and ecosystems over property interests. The fellowship recipient will be notified in June.
*To join or renew, go to nlg.org/join. If you are unsure of your membership status, please email NLG Director of Membership Lisa Drapkin at membership@nlg.org.
**NLG Projects include the National Police Accountability Project, the National Immigration Project, and the Sugar Law Center.
NLG National Office